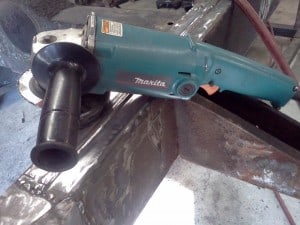 This is by far the best grinder I have ever owned. I burned out a Hitachi grinder in about 6 months of moderate use when I started this
project, and after that I decided to go the Makita. My Brother currently has
this same model of grinder that is at least 15 years old and still going
strong, after having been used heavily in an industrial fabrication shop for 10
of those 15 years.
This grinder has taken everything I have thrown at it, and
never missed a beat. It has more than enough power. While it is a bit on the
heavy side, it is not so heavy that it makes your arms tired after a few hours
of using it.  The 5 inch wheel size is great too, 5 inch wheels last longer than your hardware store 4 ½ inch ones. I have been using this grinder for the last year and expect that I will be using for many years to come. Check the link below to get the full specs and ratings.
I purchased mine from Amazon.com were it sells for at the bargain
price of $134.99 (Amazon is a great place to buy all sorts of tools) http://www.amazon.com/Makita-9005B-5-Inch-Angle-Grinder/dp/B00004YOGZ/ref=sr_1_73?s=hi&ie=UTF8&qid=1311128330&sr=1-73
If you are looking for an angle grinder for some serous fabrication work, this is it. Lets just say I have been known to prattle on about how great this grinder is to anyone who will listen. Yes it is that good.