One of my greatest fears about overland travel in my '97 Land Rover Discovery is the inevitable breakdowns that are sure to happen from time to time. In order to manage this fear, I have a fairly extensive kit of spares that I keep in a tote strapped to the roof whenever we head out on an adventure. Since not everyone drives an aging Land Rover, I have divided my list up into general items that everyone should have and then Discovery specific parts, which should also mostly apply to Defenders and Range Rover Classics as well. This list has grown over the last 8 years of offroad experience and breakdowns. My theory behind this list is to cover the non-catastrophic failures (blown engines and transmission) that could be repaired on the trail or the side of the road. Items in Bold are items we have used or could have used if we had them.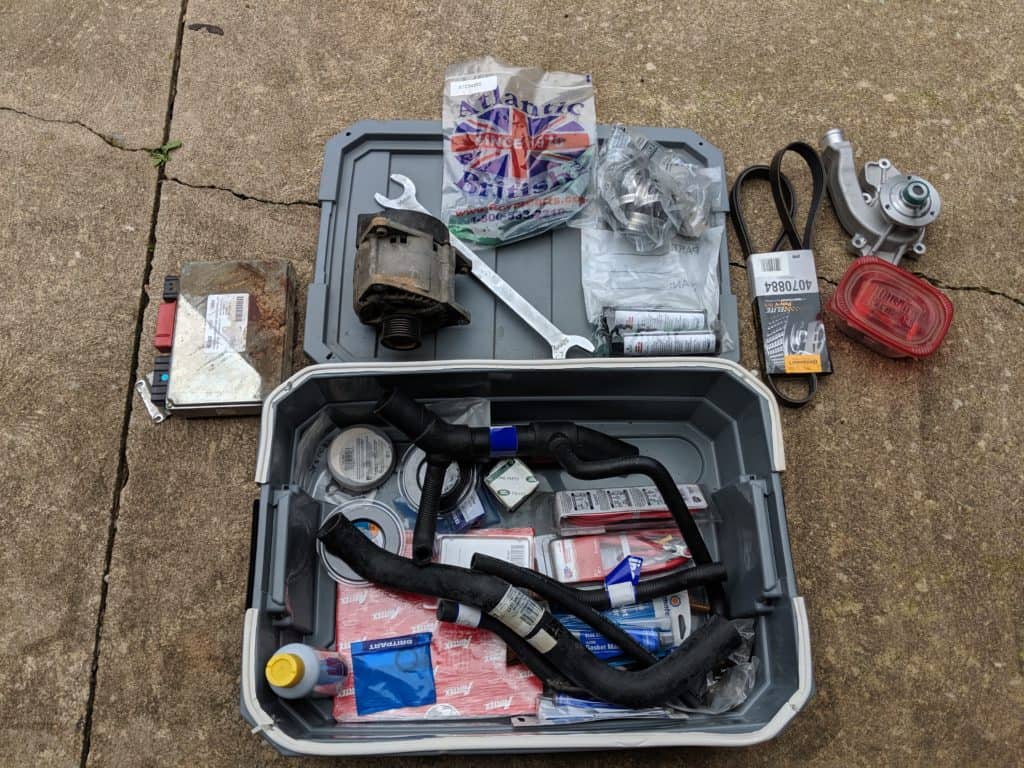 General Supplies
Spare Hose in various sizes (heater hose, fuel hose)
Various sizes of worm gear hose clamps
Various sized barb fittings
Replacement Light Bulbs for headlights and marker lights
Replacement Battery Cables
Heat Shrink
Zip ties in every size
Primary wire 12/14 gauge in a few colors
Various 12v electrical connectors and fittings
Good quality electrical tape
Various Fuses
Spare Relays
Gorilla Tape
JB Weld
RTV sealant / Gasket Maker
Gaffer Tape
PB Blaster or another penetrating oil spray
Grease, Lucas make smaller tubes
Blue and Red Loctite
Super Glue / Epoxy
Cotter Pins of Various sizes
O-Rings of various sizes
Various Nuts, Bolts, Washers
Self Tapping screws
Tarp & 2×2 foam mat for laying on
Oil, Coolant, AFT, MTL
Battery Jumper Box
Spare Parts
Serpentine Belt
Water Pump w/ Gasket
Full set of coolant hoses/ any plastic cooling system parts.
Thermostat
Alternator (used but working)
ECU (again, used but working)
Wheel Bearing (or Wheel Bearing Hub)
Fuel pump
Various Spare Hardware:

Wheel Nuts
Header Bolts
Driveshaft Bolts
Front caliper bolts
Hub/Drive Flange Bolts
Land Rover Specific Items
1 Tube of Swivel Ball Grease
2-1/16 Hub Nut Socket Wrench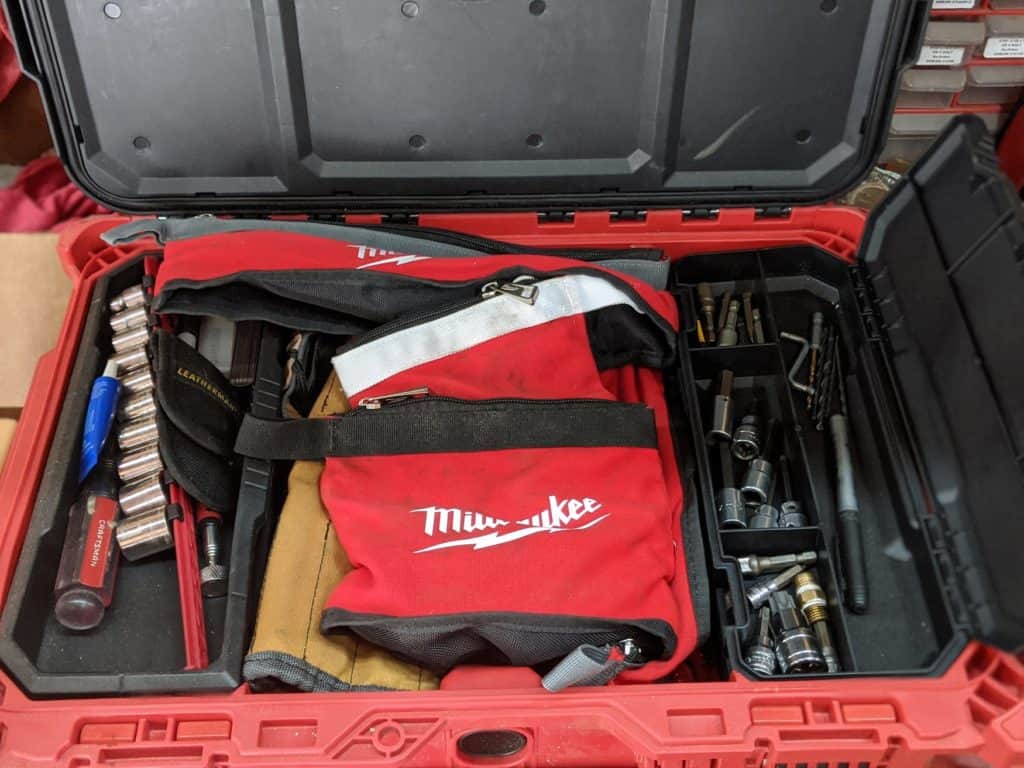 Tools
Basic Mechanical Toolset in SAE and Metric

Shallow and Deep Sockets
Wrenches
Screwdrivers
Deadblow Hammer
Ball-Peen Hammer
Breaker Bar
Drift Punch
Test Light
Good Quality Multimeter
First Aid Kit

32/36 mm Fan wrench (or whatever fits your rig)
Milwaukee Impact Gun

This is by far the most important part of the kit!

A Drill with Drill Bits
Spare Parts I Plan to Add
These are items I have not added, but plan to as budget allows. I would highly recommend these if you're planning on going to more remote areas.
Front CV and front Axle half-shafts
Rear Axles
Driveshaft – Front or Rear, Ideally Both
Set of Brake Pads
Dual Battery Setup
Storage
Most of the supplies and spare parts fit in a rectangular tote I got from Lowe's. Eventually I will be upgrading these for a more robust option but the totes have survived many trips.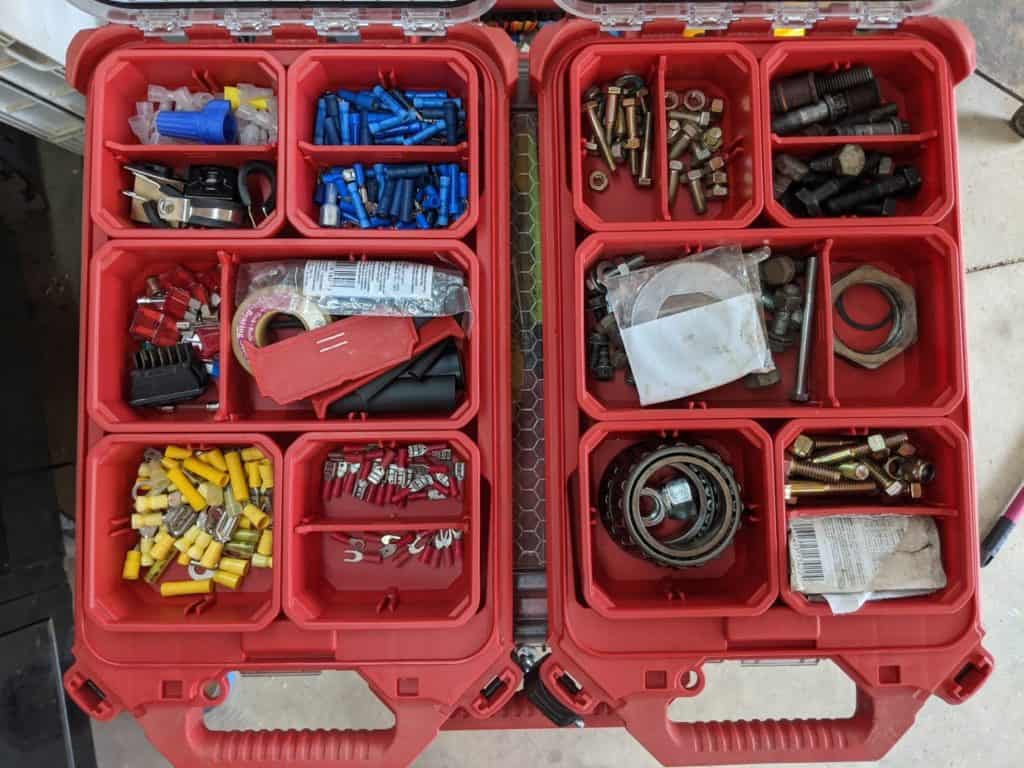 Everything else goes into a few Milwaukee Packout Toolboxes and storage containers. This is a fantastic system which I highly recommend as they are very robust and waterproof. This means when you need more space they can be stored on the roof rack.
That about covers everything I like to take when heading off into the wilderness. I have built this kit up over a few years of trips and it's come in handy many times over. I hope you have found this list helpful in your adventures as well. Let me know below if you think I have missed anything!