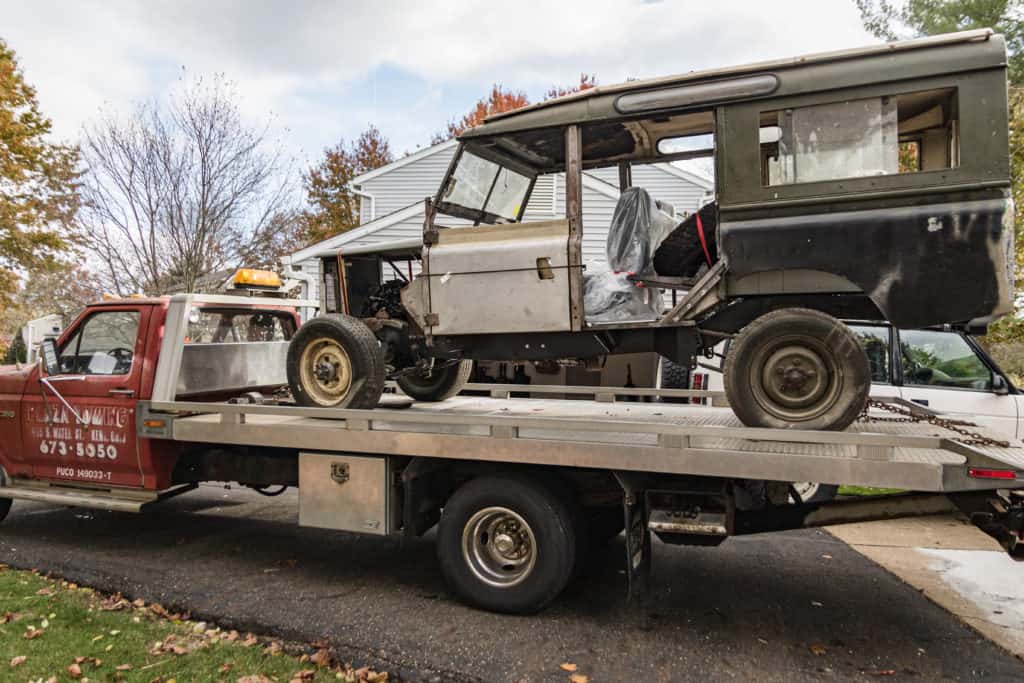 October 2019 marked two years since we packed up everything and moved from South Carolina to Ohio. In those two years, the Series 3 sat in the corner of the shop and collected dust, and took up a considerable amount of space. This milestone hit me like a ton of bricks, and I began contemplating selling the project.
November 2019 would also be the 10th (or 11th) year of the project. The mental and emotional weight of having a project that needed my attention, and no time to give to it became too much, and I made the hard choice to sell it.
I turned to Facebook, after a bit of interest I met up with Bill. Bill, recently retired, had had a Series when he was younger and was looking for a project. We settled on price and that was that. Selling the project to someone who wanted to continue the journey and have a similar love for classic cars certianly made the process less painful for me.
It's been a few months since I sold it. I think about it often, but I am very glad to have space back in the shop and the weight of an unfinished project out of my head. I have a lot of projects planned for the Discovery, which should keep me busy for the time being! Hopefully one day in the future I will have another Series in the garage, but for now, on to the Discovery.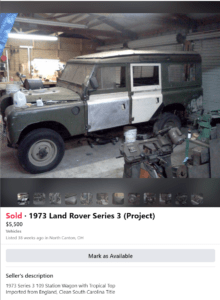 The Listing:
I wanted to keep this around as a reminder if just how much time and energy went into this project.
1973 Series 3 109 Station Wagon with Tropical Top
Imported from England, Clean South Carolina Title
I purchased this Series 3 in 2008ish . It was my first Land Rover, and I had no idea what I was looking at, and ended up paying way too much for a rust/corrosion bucket that should have been scrapped. It was my DD for about a year until I realized that the Chassis was very rotten, and needed to be fixed. I had planned a 3-year project, but it's been almost 11 years and I have run out of motivation and imagination on this project so I am offering the project for sale.
Currently, the Series is rolling on its own wheels. Most of the Body is installed. It needed a final fit-up before it was ready for paint, with some fabrication on the interior needed as well. The Heads are off the engine, for new head gaskets(included!).
All the major components are present, but they need to be plumbed (Fuel, Breaks, Wiring, PS Lines Fabricated, Drag Link needs to be modified)
I have a bunch of spare parts that come with it as well.
Chassis Details:
Motor, Trans and Transfer Case from a 1988 Range Rover Classic with around 88k miles (Apparently Dealership serviced, and used lightly by the former mayor of Beaufort South Carolina FWIW)
3.5 Rover V8, ZF transmission, LT230 Transfer Case. I drove it when I got it, but the ECU was shot, so it would only run for 30 seconds. It did run and drive when it was pulled.
Edelbrock Intake ready for a carb or EFI setup
Power Steering box from Disco 1 (Set up for Right Hand Drive in case I ever wanted to moonlight as a mail carrier)
SBC Aluminum Radiator D1 Steering shaft into Speedway 3 Bold Steeling Column
Rocky Mountain Parabolics in the front Axle with RoverTym Leaf Spring Sliders
Custom Parallel 4 Link with Panhard Bar using Disco 2 Spring and Shocks Torrel Disc Brake Kit from Rocky Mountain on the Front Axel, (Installed on one side) (includes pads, caliper brackets, calipers)
MAP freewheeling hubs
New Dual Circuit Master Cylinder
QT Diff Guards front and rear
New Fuel Tank
5 16 inch Steel wheels – tires are old but hold air
2 New front Door Tops
Speedway Slim Line Heater/Air Conditioning Unit for under the dash
The Chassis has new outriggers that have been repaired and reinforced. The inside of the Chassis was cleaned and treated with SEM Rust-Shield. The Frame was sandblasted, primed with POR15 and got two coats of Summit Chassis Paint along with the Axels
Body: The bulkhead was very rusty, so it was repaired and reinforced with new material, and adjusted to fit the V8
The internal support for the floor/body was all rotten, so I build new support from the sills inward from tube steel, removing the seat box and making a flat floor from bulkhead to rear seats. The rear tub supports were also rotten, so a steel frame was also built for the rear tub as well. This is much stronger than the stock bent aluminum support system. I used most of the stock frame mounts on the Chassis, so the body should move over to a new chassis without too much trouble.
Includes 7 seats: The front are new ProCar by Scat 80-1300-51L PRO-90 Series 1300 3 stock seats rear seats 2 Fold down rear seats.
5 LaSalle Fiberglass Door Cards
The roof and rear windows are in good shape, window tracks need to be replaced The doors are ok, the lower rear door is pretty rusty. There are a few spare doors The breakfast had been repaired and modified to work with the V8 radiator, the original location has been preserved. The Fenders are in decent shape, they both have a set of custom aluminum skins on the top to cover some rot. Rear lower quarter panels were badly damaged, and I build custom .090 Aluminum protectors to cover the crunched areas.